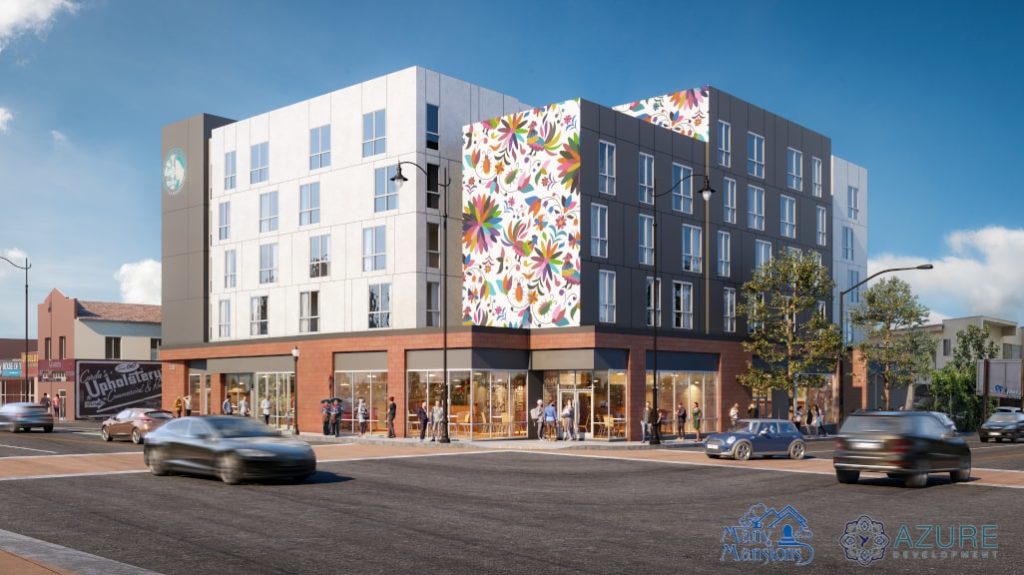 Located directly across the street from the Historic Mariachi Plaza and Metro's Gold Line station, "La Guadalupe" is the embodiment of love of family and cultural heritage. Named after her grandmother, Guadalupe Arevalos, Vanessa Delgado of Azure Development made a promise to her "abuela" when she was nine years old — to help others. La Guadalupe is dedicated to women like her grandmother who "give up themselves" to help their families but never receive recognition. Designed to provide much needed affordable housing and services in her hometown of Boyle Heights, it is finally becoming a reality — after years of planning!
Our challenge: Honor the area's cultural heritage as well as make it feel exciting on a budget. A ground floor wrapped in brick to match historic buildings in the area and a mural with an Otomi pattern incorporates the Mexican influence of the local population.
The oversized patterns and whimsical layouts bring a sense of energy and color to the structure.
With well-placed modern lighting, bold use of color and low maintenance wood-look vinyl flooring throughout, the contemporary feel is carried through the lobby to community areas and offices. Paint colors that are shown in the Otomi are used as bold splashes that create focal points in the warm neutral interior. Using different colors on each floor helps identify each level. Brightly colored Mexican tiles highlight the community kitchen and add an authentic touch.
Coming in mid-2021, La Guadalupe will bring a colorful, warm and affordable place for 44 families and individuals to call home.